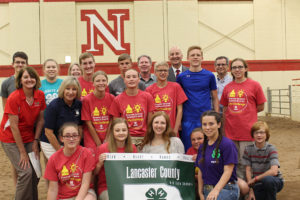 Twenty-five 4-H clubs in Nebraska were honored at the Governor's Agricultural Excellence Awards on Monday, June 25. The event, sponsored by the Nebraska Investment Finance Authority (NIFA) and the Nebraska 4-H Foundation, was held in the R.B. Warren Arena in the Animal Science Complex at the University of Nebraska-Lincoln, East Campus.
Winning clubs received a banner and $500 to complete a community service or club project. The awards are given to 25 clubs annually by NIFA. This year, a total of $12,500 was awarded to club winners. Since 1997, NIFA has provided over $199,000 for the 4-H program.
The following community members were at the event to present awards: Governor Pete Ricketts; Steve Wellman, director of the Nebraska Department of Agriculture; Dr. Jill Lingard, extension specialist; Dr. Beth Doll, interim dean of the College of Education and Human Sciences; Dudley Beyer, Ag Programs manager of NIFA; and Stu Shepherd, executive director of the Nebraska 4-H Foundation.
The emcees for the night were Maricela Paramo-Reyes, Grace Turner and Jacob Jones.
After the event, awards were presented to youth participating in the PASE/Life Challenge programs.
The following clubs received $500 Governor's Ag Excellence Awards this year:
-Bit and Spurs – Red Willow County
-Blazing Saddles – Lancaster County
-Bourne Equestrian – Lancaster County
-Cedar Creek 4-H Club – Antelope County
-Cheyenne County 4-H Robotics Club – Cheyenne County
-Dryland Toughies 4-H Club – Cheyenne County
-Eager Achievers – Hamilton County
-Future Producers – Washington County
-Horse Lovers Club – Washington County
-Hunters Pride – Lancaster County
-Lancaster County 4-H Teen Council – Lancaster County
-Monster Hares – Cass County
-Nance County Robotics – Nance County
-Needles & Nails 4-H Club – Cedar County
-Oconto 4-H Club – Custer County
-Platte County 4-H Robotics – Platte County
-Prairie Star 4-H Club – Lancaster County
-Pride of the Prairie 4-H Club – Gosper County
-Rabbits R Us – Lancaster County
-Round 'Em Up Cattle Club – Sarpy County
-Shamtastic Clovers – Lancaster County
-Sheridan County Robotics Club – Sheridan County
-Silver Creek 4-H Club – Otoe County
-Sumner Livestock – Dawson County
-Trailblazers – Nance County