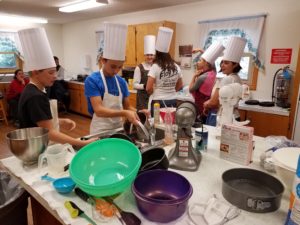 This month we would like to congratulate the Bunker Hillbillies 4-H Club for being awarded the Nebraska 4-H Club of the Month for April 2018. This club from Sidney, Nebraska, in Cheyenne County, has truly made a difference in its community. The club is dedicated to building strong citizenship and teamwork through various activities.
The Bunker Hillbillies 4-H club is a club that has progressively grown within the 4-H program.  It is a very small club, with only 22 members; however the club does many activities, both community and club-related throughout the year so that our members continue to learn new practices. Members of the club are very versatile; there are many different expertise's within the club.
In the past couple of years the club has picked a focus every year.  They make  community partnerships that have knowledge in the area of focus that can teach members different skills and tips that make them stand out among their peers.  With this learning experience, the club also incorporates a project that tests the mastery of that focus.  For example, last year members focused on baking.  They had a local baking entrepreneur teach the members skills in cake decorating.  The club then held a member "bake-off" to test the knowledge that was learned throughout the experience.
The club is also focused on giving back to the community through service pojects.  In the past, they have painted around the county fairgrounds, served ice cream at the local rehabilitation center, and planted flowers at the local library. As stated in the introduction, this club may be small in size but is mighty in drive.
The Nebraska 4-H Foundation provides the 4-H Club of the Month program to all Nebraska 4-H clubs throughout the state.  Clubs can nominate themselves by telling why their club should be chosen as Club of the Month.  A different club will be chosen each month and will be awarded with a certificate and $50 cash card.  For more information go to the Nebraska 4-H Foundation website at http://www.ne4hfoundation.org/recognition or e-mail ne4hclubofthemonth@gmail.com.